Cressi Cherokee Ocean Speargun
Cressi Cherokee Ocean Speargun 90cm - 120cm
The Cressi Cherokee Ocean Speargun has an anticorodal hydro-formed frame (aircraft grade aluminum alloy 6082) with an integrated spear track. The contoured shape of the 28mm (1.1") frame provides excellent hydrodynamics and considerable resistance to bending. The anticorodal handle has soft interchangeable high-low rear support. The trigger mechanism is %100 stainless steel with an auto resetting side line release.
Features
The Cressi Cherokee Ocean speargun is equipped with a reinforced reel base and a steel through-pin (reel not included).
The speargun muzzle accomodates two power bands, and has built in magents that help hold the spear in place while loading.
A muzzle shock absorber helps with recoil and when spearing big game.
Two circular 16mm (5/8") bands use dyneema high strength wishbones with a tensile strength of 200 kg (440 lbs.).
A 7mm (0.28") spring stainless steel shaft, heat treated to increase hardness and prevent bending, with 3 shark fin tabs for band wishbones. The shaft is equipped with a Tahitian single flopper.
Speargun is available in multiple lengths from 90 cm to 120 cm (35.4" to 47.25").
* Reel not included.
Data sheet
Speargun Type

Aluminum Barrel Spearguns

Speargun Type

Chest Loading Spearguns
Related Products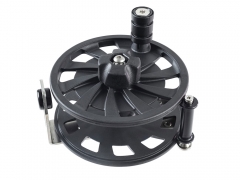 Horizontal speargun reel for Cressi spearguns 30m and 50m line...