Cressi Gara Modular Foot Pocket
Price is for a single Cressi Gara Modular foot pocket
* Fin assembly kit is included.

New self Adjusting foot pockets from Cressi, manufctured in two materials to enhance fit and performance. The Cressi Gara Modular foot pocket uses the conventional fin blade installation system, where the foot pocket tendons snap over the T shaped rubber blade rails. The Cressi footpockets will accept most standard shaped composite blades with footpocket rails installed.

The pocket itself is soft and comfortable, may be used bare foot. The sole is stiff and allows good power transfer to the blades. The foot pocket tendons have moderate stiffness and offer good support to the blade without negatively affecting its flex pattern. The Cressi foot pockets combine well with Speardiver carbon blades.

Cressi Gara Modular foot pocket sizes
38-39 (4-5)
38-39 (5-6)
40-41 (7-8)
42-43 (8-9)
44-45 (10-11)
46-47 (12-13)
These sizes reflect European and US numbers stated on the foot pockets. The European size is correct but the US size may not be accurate. It's important to use the stated sizes as a reference to the foot pocket only, not necessarily as to how it fits. For example the Cressi 42-43 size is stated as US 8-9 which is blatantly incorrect. If in doubt about which size to buy choose the "To Measure" size option, then at checkout provide your foot measurement in the message field and we'll send the correct size foot pockets.

How to measure your foot
Put a ruler against the wall and stand on it with your heel against the wall, Your measurement "A" is where the furthest toe ends. In the same way measure the width of your foot at the widest part.
Related Products
Pair of Speardiver C90 carbon spearfishing and freediving fin blades
Replacement plastic blades for Cressi Gara Modular fins, Nery, LD...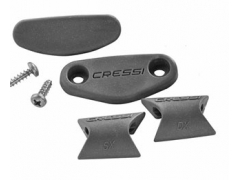 Price is for one kit. Fits Cressi Gara Modular foot pockets