Rob Allen 12L Overblown Hard Float
Rob Allen 12L overblown hard spearfishing float
The new design Rob Allen 12L hard spearfishing float is available in 3 versions:
Air filled/empty
Foam filled
Foam filled overblown
This is the overblown version. Overblown means more foam was added to the float than the standard 12L foam filled float, resulting in the outer shell expanding more and the float acquiring a rounded profile. In comparison to the flat profile of the standard 12L foam blown float, this rounded profile greatly improves the float's ability to right itself if tipped over when used with a flag kit and ballast. The overblown 12L hard float comes with a weight/ballast included, front and rear removable Nylon straps with tuna clips. It incorporates a threaded attachment point for the US diver down flag + mast kit which is available separately. The float is 28" long and 8" wide at its widest point. Together with the ballast it weighs 5lb.

Because the overblown version costs only a little more than the standard foam blown, comes with a ballast included, and has better properties assuming the diver at some point may want to add a flag, we only offer the overblown version. The standard 12L foam blown version simply doesn't handle the flag kit well.

The new Rob Allen float tough Polyethelene shell is blown with a high quality PU foam formulated to specific requirements . The blowing agent and catalyst harden the foam into a closed cell structure with greatly increased density against the shell, thus increasing crush resistance for the day the float is dragged under by a sounding fish.
What's included
Rob Allen 12L overblown foam filled float.
Tuna clip attached at each end.
Lead ballast attached with two screws.
International Alpha (blue) flag with threaded rotating base. Mast and threaded base from this flag can be adapted to use with a Red diver down flag.
Related Products
Red spearfishing float line with 600lb Spectra core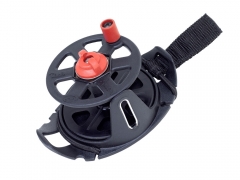 Rob Allen Vecta composite spearfishing reel for mounting on weight...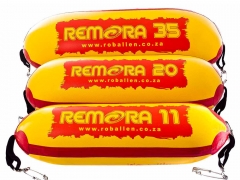 Rob Allen 11L 20L and 35L inflatable floats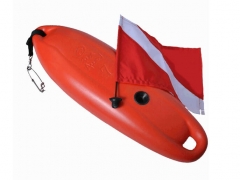 Rob Allen threaded rotating flag mast for NEW Rob Allen hard floats