Rob Allen Vecta Reel
Horizontal composite speargun reel 40m and 50m line capacity
The Rob Allen Vecta reel, NEW MODEL with red drag knob and winding lever, is available in two models, built to hold 50 meters (165ft) or 40 meters (130ft) of 1.9mm line. It fits the Rob Allen Vecta and Vecta 2 spearguns, Tuna and Snapper models, as well as spearguns from other manufacturers that have a standard reel mounting bracket. A mounting bracket is included with the reel to allow attachment to spearguns that don't already have a reel bracket installed. The mounting bracket has a rounded profile that matches the diameter of a round speargun tube, and can be easily sanded flat for attachment to wood spearguns with a flat stock.

The reel is constructed from 30% glass filled Nylon, with graphite filled acetyl bushings. Stainless steel thread on the drag nut coupled with low dead end attachment of the spool ensures it stands up to immense pressure. Stainless wear surface around the line slot ensures that line is able to run smoothly and will never wear into the reel frame. Entire reel only weighs 95g and does not affect a gun's handling when in use. Cut-outs reduce weight and assist with drying of line. The dovetail mounting bracket allows easy reel removal.

What's included
Rob Allen Vecta composite reel.
Round mounting bracket with 2 stainless steel screws.
Stainless steel line guide with screw.
Stainless steel Muzzle Eye Type U with bolt and nut.
Optional: spooled with 165ft (50 meters) or 130ft (40 meters) respectively with Speardiver 1.9mm 600LB breaking strength %100 Spectra White, Black, Red, Blue, Yellow, Pink, or Lime Green reel line. Select color before adding to cart.
Related Products
Rob Allen Tuna speargun with open muzzle and aluminum barrel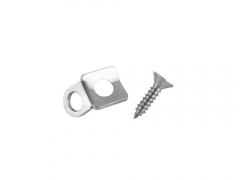 Rob Allen reel line guide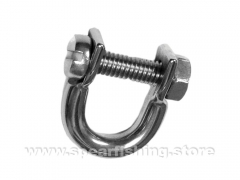 Rob Allen reel line guide, U type shackle with nut and bolt fastener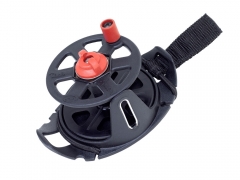 Rob Allen Vecta composite spearfishing reel for mounting on weight...