Speardiver Composite Speargun Reel
Horizontal spearfishing reel 60m and 80m line capacity
The Speardiver composite spearfishing reel features a robust and lightweight construction. One of its main advantages is the strength of the reel axle attachment point. With other composite reels the steel axle is anchored directly in the reel base, where the material is barely 1/4" thick. This can be a point of failure if strong sudden pressure is applied to the reel, such as when the drag is left locked by accident or the reel jams and a strong fish makes a run. The axle and spool may tear out of the reel base. By contrast the Speardiver reel has a more robust axle, formed by a full length stainless steel shaft %80 of which is encased in the composite material which is part of the reel base.

A problem with many reels advertised as spearfishing reels is that they don't function correctly; when line is pulled the reel immediately goes into free spool. This means the brake/drag that was set before the shot loosens completely allowing the reel to spin freely. When line is pulled fast the free spinning reel has the potential to create a birds nest/tangle leading to the reel seizing and the speargun being pulled away. The Speardiver composite reel has a correctly functioning drag system, the brake friction will remain at the level you set it before and after the shot, preventing a birds nest and maintaining the right amount of pressure on the fish.

Whats included
Speardiver composite reel 60 meter or 80 meter.
Two mounting bases, one for round profile railguns and one for flat bottom wood guns.
Two #8 x 1" stainless steel pan head screws to attach mounting bracket to the speargun.
Optional: spooled with 60m (190ft) or 80m (260ft) respectively with Speardiver 1.9mm 600LB breaking strength %100 Spectra White, Black, Red, Blue, Yellow, Pink, or Lime Green reel line. Select color before adding to cart.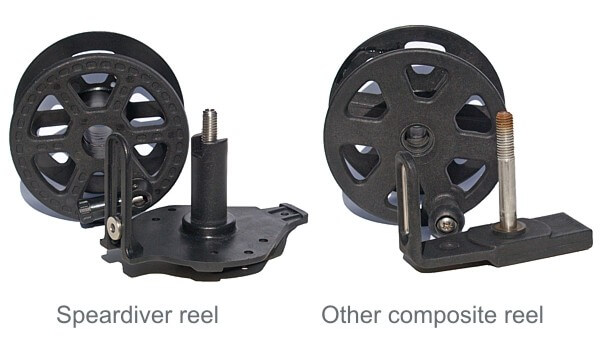 Features
Line capacity 190ft (60 meters) or 260ft (80 meters) with 1.9mm 600lb Spectra line.
Fits all spearguns with standard reel mouthing bases such as Rob Allen Tuna.
Dovetail mounting base for easy reel attachment and removal.
Cutouts in the spool walls reduce reel weight and decrease line drying time.
Smooth adjustable brake/drag system. Reel will not go into free-spool when line is pulled.
Sliding stainless steel line guide removes kinks in line as you wind it.
Optional rear spool guard. It's secured with one Phillips screw and is easily removable.
All stainless steel hardware
Weight without line 5.5oz (156g).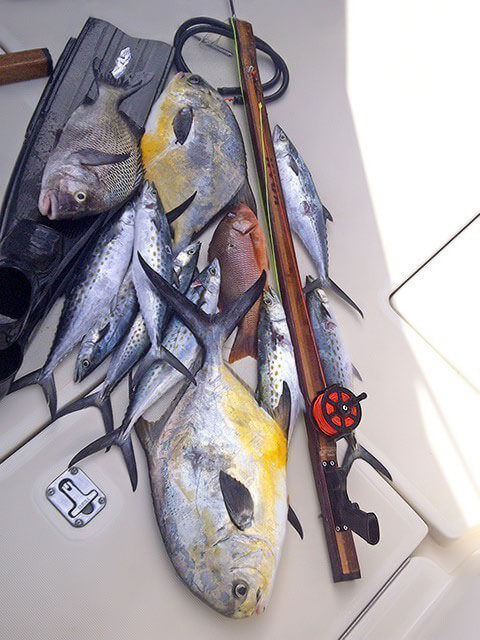 Related Products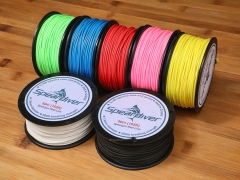 600lb 1.9mm %100 Spectra speargun reel line 50 meter (162ft) spool