Speardiver Small Hole Speargun Rubber Tubing Black
Highest quality black rubber tubing for speargun band making. Reduced inner diameter/smaller hole = more rubber = more power. Sold by the foot
Speardiver small ID black speargun band tubing. If you're looking for speargun rubber that will stretch to %400, hold energy in a loaded state for a long duration with minimal power loss, and have a continuous smooth release instead of a burst that results in muzzle kick and reduced speargun accuracy, then this is the rubber tubing for you.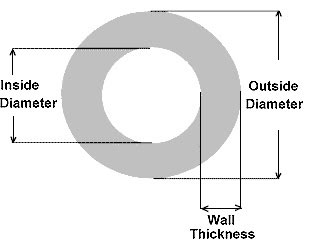 Understanding rubber tubing specifications

For conventional 5/8" (16mm) speargun bands add 1/4" left wall thickness + 1/8" ID/hole + 1/4" right wall thickness for a total of 5/8" OD. The specification for typical 5/8" speargun bands is 1/8 X 1/4 (ID X Wall).

In contrast Speardiver small hole rubber tubing ID is reduced by half (1/16") and the wall is increased by 1/32". The tubing has a smaller hole and maintains 5/8" OD. The specification for Speardiver small hole 5/8" rubber tubing is 1/16 X 9/32. The same formula applies to all Speardiver small hole rubber tubing: 14mm, 16mm, 17.5mm and 19mm.


Why we use this format for speargun rubber tubing
Speargun rubber tubing is made of Latex/natural rubber, which comes from the sap of the rubber tree. Latex in its natural form is Amber colored and is less resistant to sunlight. An outer layer of colored/dyed Latex adds UV protection and extends the life and performance of the band. The same UV protection is achieved when the rubber is fully dyed to any color. For differentiation purposes our 14mm rubber has a black layer over amber, 16mm is solid black, and 19mm is again black over amber. Same performance characteristics are maintained independently of color scheme.
Cut open a band open after a day of spearfishing and you'll see water come out of the hole. The cycles of stretching and compression draw water into the band no matter how well you tie the wishbone, and it remains trapped there. Salt water damages the band from the inside, you can see this layer of deteriorated rubber immediately around the hole of a used band. The small 1/16" hole significantly lessens water intrusion into the band, improving performance and increasing longevity.
Less hole equals more rubber at the same diameter, which equals more power without increasing the profile of your speargun.
Speardiver 1/16" ID tubing next to conventional 1/8" ID tubing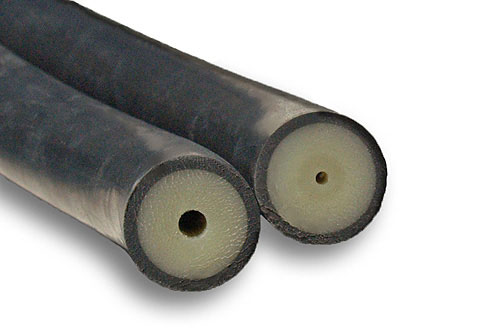 * Rubber tubing comes in continuous lengths ranging from 15ft to 25ft. You'll receive the tubing in several sections depending on the order quantity. We do our best to compile the order in as few sections as possible. If you have a specific need as far as continuous length contact us before ordering.




  Speardiver tip
---
For super easy band making and professional results, use the Speardiver wishbone system with Speardiver wishbone spectra and band tying twine.