Spearfishing Dive Weights Lead Uncoated
Lead weights for spearfishing and freediving, uncoated lace thru style
Uncoated weights are the preferred choice for spearfishing application, and not only for the iconic look of a diving belt with mature raw lead weights. The textured plastic layer of coated dive weights creates friction and reduces the width of the belt slot, making it difficult to weave a belt through the weight. This becomes a problem particularly with rubber weight belts (preferred for spearfishing and freediving) which are thicker and more grippy than the slippery Nylon web material commonly used by scuba divers. Plastic coating also cracks and chips over time.
These dive weights have a rounded edges design reducing the possibility of snagging. The recessed belt pass-through area on the front of the weight adds to the streamlined look and feel.
These uncoated lead Lace-thru spearfishing and freediving weights are environmentally friendly, die-cast with lead reclaimed from recycled car batteries. Lead in its raw form does not have the hardness needed for durability of dive weights, so small amounts of antimony and tin are added to create an alloy achieving the correct hardness and smooth appearance. Using immense pressure, the molten lead alloy is injected into multi-cavity molds. This process provides the best quality, most consistent weights in the industry.
Available in 1, 2, 3, 4, 5, 6, 8, 10 and 12LB configurations. Proudly made in the USA.
---
  Speardiver tip
---
For spearfishing and freediving, whenever possible, many 1LB weights evenly distributed along the belt are preferred rather than the heavier weight configurations. To achieve precise buoyancy and the best possible trim.
Related Products
Speardiver Marseilles rubber weight belt for spearfishing and...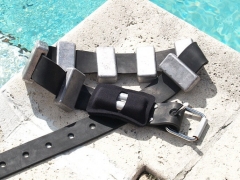 Speardiver Neoprene belt pouch holds two powerheads for quick...