Speardiver ALL STAINLESS STEEL Crimping Tool
For mono and wire, largest crimp size 2.2 for 400lb mono, and wire diameter 2.0mm
Speardiver high quality ALL STAINLESS STEEL Mono and Wire Crimping Tool for spearfishing. Stainless steel tool head with 4 crimping positions, stainless steel handles with Blue non-slip grips, and built-in side line cutter. The largest crimping position is for crimp size 2.2, which is the one used for 400lb mono, and wire 2.0mm in diameter.

Crimpers for spearfishing sold elsewhere that contain Stainless Steel in the description are never completely made of stainless steel. Normally only the handles are stainless steel, this is most evident with crimpers that have a black color tool head. But even crimpers that have a steel colored tool head are commonly not stainless steel. The Speardiver crimping tool is all stainless steel, perfect for a professional crimping job at home or on the boat. If you've kept hand tools on a boat used in saltwater, you know that despite the best maintenance efforts corrosion/rust is inevitable. To test this crimper we left it in the boat bilge for months and found no corrosion.

Features
Single handed operation, squeeze handles and point up to unlock tool head, squeeze and point down to lock handles with tool head in closed position.
All stainless steel construction: tool head, handles and fasteners.
Non-slip rubber handle grips.
10.25" long.
4 crimp sizes: 0.1-0.5mm, 0.5-1.0mm, 1.0-2.0mm, 2.2mm.
Line/wire cutter on each side.
---
  Speardiver tip
---
For best holding strength and durability crimp in two spots slightly back from each end of the crimp, so that the crimp edge doesn't dig into the mono and cut into it. Leave the middle un-crimped. When possible lightly melt the end of the mono with a lighter to form a glob, before pulling it to the crimp. This will lessen the possibility of the mono slipping through the crimp.
Related Products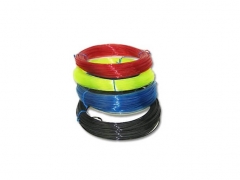 300 ft coil of 400 LB or 300 LB Speardiver monofilament shooting line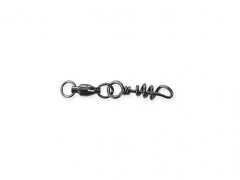 Quick connect pigtail or corkscrew snap and swivel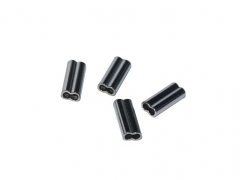 Black double sleeve monofilament copper crimps. Pack of 25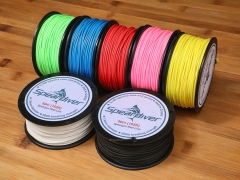 600lb 1.9mm %100 Spectra speargun reel line 50 meter (162ft) spool