Speardiver Spearfishing Weight Vest
Double lined neoprene spearfishing weight vest
The Speardiver spearfishing weight vest is for cold water divers who use thicker wetsuits and require more weight and better weight distribution than what only a weight belt can afford. Better weight distribution may also be required when diving shallow, or by divers who experience lower back pain caused by the weight belt. The weight vest is not meant to replace the weight belt, but be used together with it. About two thirds of the weight should go on the belt so that in the event it becomes necessary to drop the belt, there will be sufficient increase in buoyancy to allow an easy ascent, and achieve positive buoyancy at a predetermined safe depth.

The weight vest has 6 weight pockets positioned on the diver's back when the vest is worn. The weight pockets are accessible from the vest interior and have a Velcro closure. Each pocket will accept up to a 1.5lb (0.70kg) weight. The weights can be regular dive belt weights, or weights molded specifically for the vest pockets which have 3.5" (9cm) x 2.5" (6.5cm) interior dimensions. A flat empty sardine can is a good mold. We do not sell weights specifically made for the vest.

An effective safe way to additionally secure the vest is with a bungee and ball. The ball is tucked under the weight belt, when the weight belt is dropped the weight vest is free to be removed by releasing the buckle. The vest can be rigged to hold a knife. The weight pockets are also a good place to stash a car key or a fishing license if shore diving.
Speardiver vests are stretchy and there's some overlap between sizes. If you're at both height and weight extremes for a given size, you may need the next size up.
| | | |
| --- | --- | --- |
| Size | Height | Weight |
| Large / X-Large | 5'4" - 6' | 150 - 210lb |
| 2X-Large | 5'11" - 6'1" | 190 - 225lb |
| 3X-Large | 6' - 6'3" | 200 - 250lb |
Related Products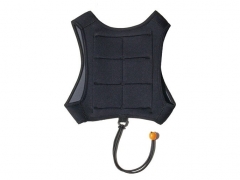 Ball with bungee weight vest retainer
Lead weights for spearfishing and freediving, uncoated lace thru style