Sporasub Blue Water Spearfishing Float
Sporasub Blue Water inflatable spearfishing float
The Blue Water inflatable float is a versatile and durable. This float features a harness that provides multiple attachment points for all types of gear lines and guns. The webbing also secures the forward and aft d-rings for added strength if it is used in an inline sequence. The float constructed to fit an optional hard rubber flag base to serve as an attachment for a diver down flag. It has a pouch for an optional 2lb weight for stability.

Options
Add a hard rubber flag base.
Features
840D fabric.
107cm long.
High visibility orange.
Forward and aft stainless steel D-rings.
Multiple carry straps.
Flag base opening for optional flag base and flag.
Pocket for optional 2lb weight.
Max 15 PSI inflation.
75lb of lift.
Related Products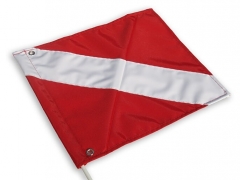 Diver down flag for spearfishing. Two sizes, for float and boat