Ermes Albatros 100 Reel
Horizontal speargun reel in 30m and 60m line capacity. Black composite with stainless steel construction
Ermes Albatros reel parts are CNC machined from Black POM-C, the best plastic for marine use. The Coils are 30% carbon fiber. Steel parts such as the handle and central shaft are manufactured in AISI 316 stainless steel. The clutch knob works with a ball and a disc with 12 positions, this system allows you to adjust the braking force to be transmitted to the reel, useful for tiring the fish. The reel has a diameter of 100 mm. Base attachment is universal for round and flat bottom spearguns.
Low model is 32 mm tall and has 45 meters capacity with 1.5 mm line.
High model is 64 mm tall and has 85 meters capacity with 1.5 mm line.
Related Products
%100 carbon speargun barrel with built in track, gloss finish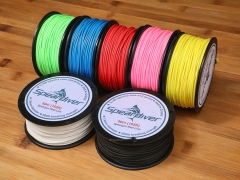 600lb 1.9mm %100 Spectra speargun reel line 50 meter (162ft) spool
%100 carbon contoured (AKA cuttlefish) speargun barrel with built...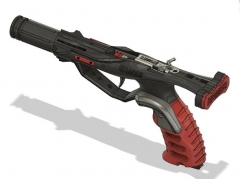 Ermes Avatar speargun handle complete with stainless steel double...