Speardiver Titanium Vertical Speargun Reel
Vertical Titanium ambidextrous speargun reel 30m and 60m line capacity
Speardiver Titanium vertical speargun reel. All titanium construction significantly reduces reel weight, allowing use with shorter aluminum barrel spearguns maintaining the speargun positively buoyant with the shaft out. Titanium is lighter and harder than stainless steel and will never rust.
Reel frame has built in screw holes that match the reel mounting holes on the Speardiver RTX handle trigger guard, allowing easy direct attachment with two screws. The same holes are used to attach the reel directly to a flat bottom wood speargun. An optional dovetail quick release reel mount with a forward dead stop and backward push button release is sold separately. The quick release reel mount, made to match the same holes on the reel frame, attaches to round barrel tube guns, flat bottom wood guns, and the Speardiver RTX handle trigger guard with two included screws.
Features
All Titanium construction.
Line capacity with 1.9mm reel line:

Ambidextrous design, winding arm can be switched to either side for right or left handed operation.
Extendable winding arm, compact when not in use, faster winding when reeling in a lot of line.
Graduated braking system. This means click-click-click as you turn the drag knob to tighten or loosen drag.
Spool made of durable high quality nylon infused composite.
Ergonomic design, super light reel with minimal effect on buoyancy.
Robust support base with an additional optional adapter allowing fitment on all spearguns, round barrel and flat wood stock.
Related Products
%100 carbon speargun barrel with built in track, gloss finish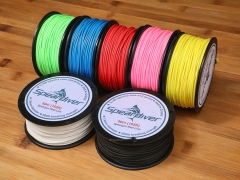 600lb 1.9mm %100 Spectra speargun reel line 50 meter (162ft) spool
%100 carbon contoured (AKA cuttlefish) speargun barrel with built...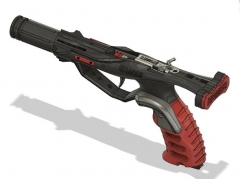 Ermes Avatar speargun handle complete with stainless steel double...