Sporasub Spitfire Lady Women Foot Pocket
Price is for a single Sporasub Spitfire Lady women foot pocket
Sporasub Spitfire Lady Women Foot Pocket only, blade is not included. Fin assembly kit which includes; toe plate insert, screws backing plate, 2 stainless steel screws and tendon end clips is optional. For complete Sporasub Spitfire Lady women size carbon and plastic fins see the Fins category.

Designed specifically for women Sporasub Spitfire Lady blue foot pockets are available in two sizes; 35-36 (women 5-6) and 37-39 (women 6.5-8.5). Featuring thermo rubber construction and molded using two different hardness materials, soft for the pocket area for comfort, and harder in the sole and tendons for good energy transfer to the blade.

If you want to make sure the foot pockets fit contact us and provide your foot measurement.

How to measure your foot
Put a ruler against the wall and stand on it with your heel against the wall, Your measurement "A" is where the furthest toe ends. In the same way measure the width of your foot at the widest part.
Related Products
Pair of Speardiver C90 carbon blades in women size Sporasub...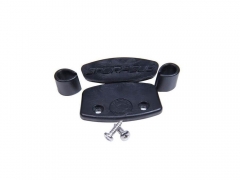 Price is for one kit. Fits Sporasub Spitfire foot pockets
Pair of Sporasub Spitfire Kelp Blu fins, women size for freediving...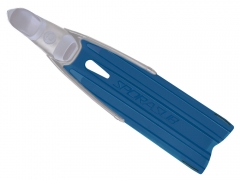 Replacement plastic blade for Sporasub Spitfire Kelp Blu fins,...