Ermes Double Roller Ceramic Bearings Speargun Muzzle
Ermes double roller speargun muzzle with ceramic bearings
Ermes double roller speargun muzzle with ceramic bearings. Small, light, entirely CNC built, the 28 mm pulleys are protected by a fairing and use high-speed ceramic bearings. Manufactured in extremely durable impact resistant plastic. Shooting line can be routed to the right or left side. Bungee anchoring point/reel line guide/2nd wrap line guide are built in. For speargun barrels with 26mm or 26.5mm inner diameter. Includes two incorporated O-rings to prevent water intrusion into the tube. Peg insert diameter is 26mm with sacrificial stripes that increase the diameter to 26.5mm. These stripes can be easily cut or sanded off, allowing compatibility with 26mm and 26.5mm inner diameter aluminum and carbon speargun tubes. Muzzle material can be filed or sanded reducing the peg diameter, making it possible to fit many tube configurations.
Data sheet
Muzzle Type

Roller
Related Products
%100 carbon speargun barrel with built in track, gloss finish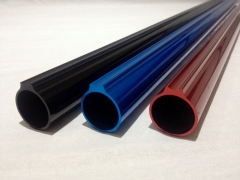 Aluminum speargun tube with built in track black
%100 carbon contoured (AKA cuttlefish) speargun barrel with built...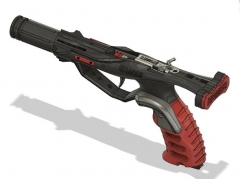 Ermes Avatar speargun handle complete with stainless steel double...